The Internet is swooning over Carlton Hughes.
As of this writing, Carlton's last comedy writing article here on Almost An Author has three times (3x!) the number of views my May article on copywriting has. And the comments? I had a single polite note from the associate editor. Carlton, on the other hand, got a ton of women writers chiming in on his comment thread.
If I were twelve years old and there were no parents around, I'd moon him for that. And then I'd run. Fast. Nah, I wouldn't do that. Carlton would slither home and tell his mom. Then, we'd all be in trouble—me for doing it and you for "letting it happen."
Sad fact, guys: comedy is going to outperform information every time. Do you want to make them buy? Make them laugh.
Here are 5 lessons copywriters can learn from comedy writers:
Start with the "I/You."
What's the first word of Carlton's opening line? It's "I." And the last word? It's "someone" (implying you). Writing for content marketing is a two-way conversation between the business and the reader. Use the actual words "I" and "you" over and over again in your drafts until you master the art of conversational writing with a purpose.
By the way, make sure the "I" isn't you. Does the business owner sound hip and smart? Your prose needs to sound hip and smart. Does the CEO sound down-home and folksy? Your copy needs to reflect that. Write in the voice of your client, not your own voice.
Be vulnerable.
We live in the age of vulnerability. We trade in information, and we have few secrets. By sentence four, Carlton has hinted that a glimpse of his personal woundedness is coming. Great comedians use their own woundedness as the currency that buys laughter. Businesses can trade with that currency, too.
When one of my clients had a banner weekend, they wanted me to create an article that didn't gloat about their success. Instead, I wrote about the company's concern that rapid sales growth might not be good news for their clients. In the article, we asked tough questions and answered them through an outside interview. We didn't say we were the best, biggest, and baddest software company in the history of the world. Rather, we let our customers know we're on their team no matter what.
Look at the layout.
How long are Carlton's paragraphs? One or two sentences, right? It makes the article easy to scan, doesn't it? You're tired of hearing me ask rhetorical questions, aren't you? Comedy writers do short and catchy well. Copywriters can, too.
Also, see how Carlton bolds and italicizes his words. While this trick can be overdone, pulling out the best lines with bold fonts, italics, or designs can be a great idea. (Badly done, it can also be a ghastly idea so have a professional designer take a peek at it for you.)
Be funny.
For some reason, we think of advertising, sales, or information about business as dry and boring. But nearly anything can be funny if you make it so. I used to teach middle school so let me insert this warning: Some things are not funny! Avoid those things.
I have a client who retails business-related software and hardware to mid-size companies. Let's just say writing for this client is not an exercise in jocularity. For an article entitled The Benefits of Vendor Consolidation, though, their notes listed one benefit as "one number to dial, one leadership team to negotiate with, and one neck to wring." I left the "one neck to wring" phrase in, and they published it. It helped humanize them a little.
Use contrasts to your advantage.
Carlton wrote, "Bunn completed his speech, and I assume he returned to his room to write another bestseller. On the other hand, I trudged across campus through a monsoon to my lovingly-appointed Ridgecrest room and got real with God."
See what he did there?
Returned versus trudged through a monsoon
His room versus my lovingly-appointed Ridgecrest room
Write another bestseller versus got real with God
That's genius.
Harness the power of the contrast. Are you writing for a non-profit that helps homeless people? Contrast the life of a homeless person today with that same person's life after your reader makes a gift. Are you writing about pricey cat litter boxes? Contrast the life of your reader's cat today with the life it will have once the reader has purchased the box.
All great comedy, like all great copywriting, is emotionally impactful storytelling designed to provoke a response.
Carlton, your comedy writing article got a response. Readers loved it. Women sighed over it in the comment thread. Copywriters took notes on it.
You want my response? Head outside and look up. See that big, white moon in the sky? Imagine I hung that there just for you. That's my response.
Readers, if you'd like to share your thoughts on how great comedy writing and great copywriting are alike – or if you'd just like to rag on Carlton a little more – the comment thread is open.
I have to go inside now, and I probably won't be back out for a while. Carlton called his mom and told on us.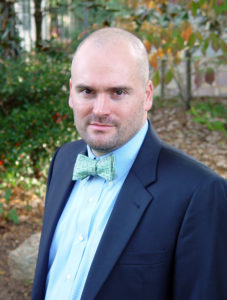 About Holland:
I love telling the stories that people put down so they go take action. I'm an advertising copywriter by day, an aspiring novelist by night, a parent, a dog-lover, a prison volunteer and a follower of Jesus.
Share your Thoughts
comments